Michael Thornton
How weather changed my life
Updated: Aug 2, 2019
Hello everyone, today I am going to be talking about how weather has changed my life.
Downtown Monticello. Photo taken by Jesse Greenwald/ThisIsAmericaToo.com
Before we get into talking about how weather has changed my life. I thought that it would be best to talk about where I am from first. I am from a very small town in Wisconsin called Monticello. This town has 1,000 people in it. Up until the age of 8 I lived in this beautiful village. In August of 2005 my father passed away at the age of 38. My family then moved to this town called Stoughton that same month. On August 18th, 2005 my life would change forever.
Surface map on August 18th, 2005 at 18z. Courtesy of the Weather Prediction Center.
I still remember the morning of August 18th, 2005. It felt like a typical severe weather day. Very hot and muggy. There was not a cloud in the sky which helped the atmosphere become very unstable. The Storm Prediction Center had put a slight risk out for all of Southern Wisconsin stating that "Large hail, damaging winds, and isolated tornadoes would all be possible across Southern Wisconsin."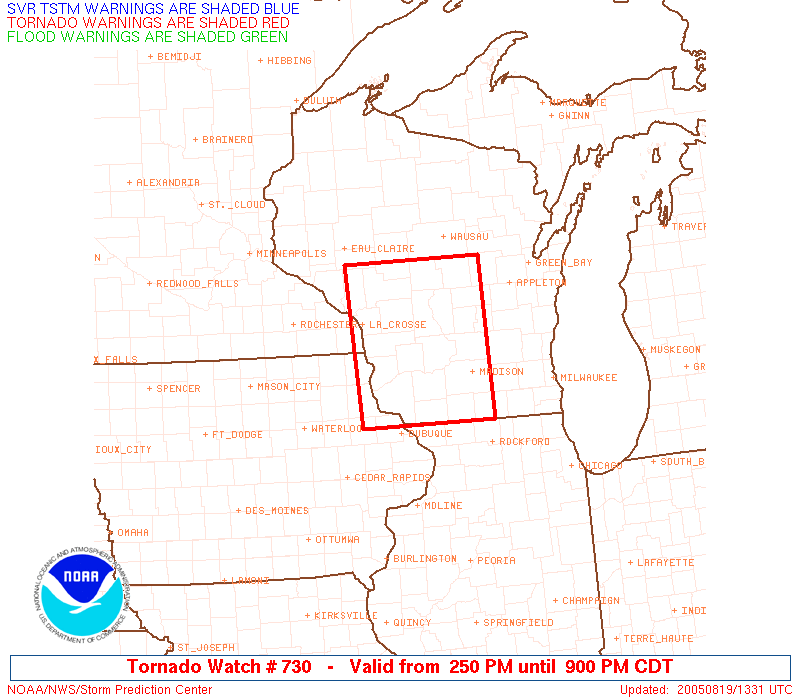 At 2:50pm the Storm Prediction Center would issue a Tornado Watch from Western Wisconsin all the way East into Central Wisconsin stating that " Vertical Shear Profiles will promote Supercell potential near Warm Front... With the risk of isolated Tornadoes. Damaging Winds are likely to be the main threat farther South." The time is now 6:20pm, I am at my grandma's and I had just realized that we were under a Tornado Watch. At the time I was always petrified of severe weather. So when I saw that we were under a Tornado Watch I began to become scared.
Storm Relative Velocity at 6:30pm. The tornado is 1 mile to the North of Stoughton.
By 6:20pm the tornado had been on the ground for 5 minutes already, having formed just West of Stoughton near Oregon. NBC 15 [a local news station in Madison, WI] was now just beginning to cover this storm. 10 minutes later the power would go out, my mother and I would head to the basement in my grandmas house. I thought that for sure I was going to be killed by a tornado.
The Stoughton F3
This tornado would stay on the ground for almost an entire hour. Thankfully, it missed the town of Stoughton by less than a mile.
However, the F3 Tornado would destroy a small subdivision called Greenbriar Estates just 1 mile North of Stoughton. This resulted in 1 death, 24 injuries and 42 million dollars in damage. 27 tornadoes touched down on August 18th, 2005. Making it the biggest tornado outbreak to have ever occurred in Wisconsin. The people of Greenbriar Estates and Stoughton had very little time to get to shelter because of the lack of news coverage on this storm. The 1 death was a result of the person who passed away not being informed soon enough about the tornado, as bricks above him would come crashing down onto him as he was trying to get to the basement. This day caused me to become very fearful of severe weather.
Screenshot showing the reflectivity of the July 22nd, 2010 Stoughton Tornado.
2010 Stoughton Tornado.
5 years later on July 22nd, 2010 Stoughton would be under the gun yet again. However, this time I was prepared. I was alerted by the National Weather Service about 15 minutes before the storm reached Stoughton as the NWS had put out a Tornado Warning on the storm because of what a spotter had seen. Thankfully a tornado wouldn't form until it was to the East of Stoughton. This tornado would be rated an EF-1. After July 22nd, 2010 I began to research this thing called "Storm Spotting".
Tree uprooted in Stoughton - August 2013
In April of 2012 I would get my drivers license and become a Storm Spotter all while still in High School. The first time I ever went Storm Spotting instantly what was a fear turned into something I loved. From that point on I began to research more and more on why severe weather happens and how it works. In 2013 I would submit my first ever storm report to the NWS in Milwaukee because of storm damage.
Shelf cloud going over Stoughton. - June 2015
On June 22nd, 2015 I would go on my first ever storm chase. That first chase was doomed from the beginning as I only had a cellphone to record video, take photos, and to use for radar. All while a Squall line was approaching my county at around 60mph. It's safe to say that I was not at all prepared for this chase. I chased the squall line from Stoughton all the way into Janesville, WI.
Photo of my vehicle with a hail core in the background that had up to 2 inch hail. - May 2016
2016 would be the first year that I ever chased on the great plains. On May 17th, 2016 I packed up my laptop and some clothes and headed South towards Oklahoma. I was mainly going to Oklahoma to look at apartments. But on May 21st, 2016 I would chase in the Texas Panhandle.I I would begin my chase in Kerrick, TX and intercept a hail core near Hartley, TX that had 2 inch in diameter hail. I was so excited when I intercepted this hail core because in Wisconsin I had never seen hail that big. So for the next 3 days I chased in the Texas Panhandle.
Wall cloud near Carney, OK - July 2016
In June of that same year I officially moved to Oklahoma. My first ever chase in Oklahoma would be on July 3rd, 2016. That day I would see my first real wall cloud on a storm that had become tornadic near Carney. I would get many awesome lightning photos and storm videos that year.
Elk City tornado damage. - May 2017
In 2017 I would chase severe weather every month from February up until October. On May 16th, 2017 I would chase a rainwrapped tornado into Elk City, OK. This would be the first time I had ever experienced what it was like to chase a tornado that would kill an innocent person. That same year on June 21st, 2017 I would be a main speaker at a weather safety camp in Wisconsin.
Severe warned cell with a wall cloud near Mustang, OK. - August 2018
In 2018 I would attend my first ever Chasercon in Denver, CO. I would chase every month starting in May up until October. Once again on June 22nd, 2018 I would be invited to speak at a weather safety camp in Wisconsin. August 14th, 2018 was a Marginal risk day in Oklahoma, but it ended up being my favorite chase of 2018. Storms initiated to the Southwest of Oklahoma City, and I tracked these same storms into Mustang. This storm began to show signs of possibly becoming tornadic as it moved closer to Oklahoma City. Thankfully though, this storm was cut off by another severe cell to the Northwest which killed any potential of it becoming tornadic as it came closer to OKC. August 31st, 2018 Chasing The Meso would be born.
Severe warned cell near El Reno, OK. - May 2019
Here we are now in 2019 and I have been chasing severe weather for the past 4 years. When you combine storm spotting and chasing together I have a total of 7 years of experience. Many people trust me to give them updates about severe weather more than their local news stations when severe weather strikes, I have chased in 10 different states, and have a total of 90,000 miles of chasing under my belt. I can almost guarantee you that if the 2005 Stoughton F3 tornado hadn't occurred that I would've never became interested in weather. Weather has changed my life completely. It has allowed me to see the United States, talk about severe weather safety at camps, and I also have been interviewed because of severe weather. What was once a fear turned into something that I now love.
Thank You for reading,
Michael Thornton